The 2021 Subaru Love Promise Community Commitment Award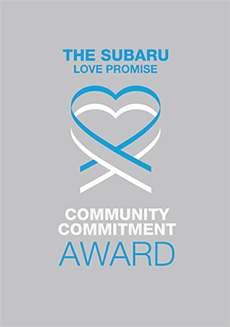 We've been nationally recognized for our dedication to our community and the Subaru Love Promise.
We're honored to receive the 2021 Subaru Love Promise Community Commitment Award. This award nationally recognizes Subaru retailers who are making the world a better place while demonstrating an outstanding commitment to supporting passions and causes in local communities. These efforts are focused in important areas such as the environment, community, health, education, and pets.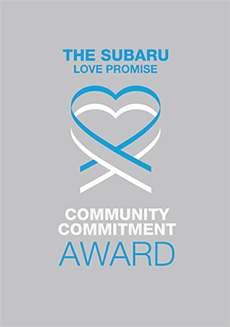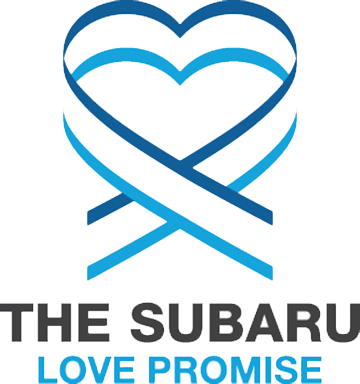 What is the Subaru Love Promise?
Subaru and our retailers believe in making the world a better place and the Subaru Love Promise is our vision of respecting all people. This is our commitment to show love and respect to our customers and to work to make a positive impact in the world.
How is Money Subaru dedicated locally to the Love Promise?
Our Love Promise can be seen in various partnerships with local charities and non-profits. We're grateful for the opportunity, not only to be a part of our community, but to serve it as well.
Salina Animal Shelter, Rolling Hills Zoo
Salina Food Bank, VFW, Child Abuse Prevention Service, Pregnancy Service Center, The Ashby House
Hospice of Salina, American Red Cross, Tammy Walker Cancer Center
Love Promise Stories from Money Subaru
Subaru and Money Subaru believe in making a positive impact on the communities in which we live and work. We uphold that belief through our Love Promise Community Commitment. Every month, we select inspiring stories from customers and partners from around our area who strive to support our collective commitment and feature them here
Giving Back To the Community - Danielle H
This November, as part of the Subaru Loves to Help and in recognition of Nation Homeless Youth Awareness Month. Money Automotive donated 80 blankets to the Salina Rescue Mission. These blankets will be distributed to the homeless in Salina through the Salina Rescue Mission's street outreach program. During the street outreach program we go throughout the community to do welfare checks on our homeless neighbors providing blankets, hygiene items, sack lunches and letting them know how they can get greater help for themselves. Salina Rescue Mission of Salina, Kansas is a non-profit organization in the Salina community that provides men with food, clothing, shelter and other basic needs as well as rehabilitation services to get them back on their feet.
---
126 Pets Adopted! - Danielle H
For the month of October Salina Animal Services and Money Automotive teamed up to make sure no pet was left behind. Over 125 dogs and cats were adopted from our local animal shelter here in Salina. As part as the Subaru Loves Pets program, Money Automotive donated $3,100 to the Salina Animal Shelter.
---
Local Dealerships Come Together - Danielle H
Larry Marshall, North McArthur, and Mike Money teamed up to make a $15,000 donation to the Salina Emergency Aid Food Bank. The trio understands they are stronger together. Mr. Marshall said, "although we are competitors, we have come together to help those who have lost their jobs and face very difficult circumstances."This trio of local dealerships has served the Salina community for a combined total of 192 years. Mr. Money said, "We all live in Salina, and believe it is important to help whenever we can." McArthur added, "This is our home town. We all want to thank our customers for making this donation possible. It is an honor to help in this way."People like Mr. Marshall, Mr. McArthur, and Mr. Money make all the difference in the world to those in our community experiencing difficult times! We can't thank them enough
---
Fee Waived Adoption Program - Jennifer E
The first ever animal adoption event in Salina was a big success Saturday. A planned three hour event was cut short after an overwhelming response in which every dog and cat was adopted. The Salina Animal Shelter, using a grant from the American Society for the Prevention of Cruelty to Animals, partnered with Subaru of America and Money Automotive Center to host a free adoption event. The donated funds from the ASPCA offset costs related to adoptions, including: spay/neuter surgeries,microchips and vaccinations. The event, held at Money Automotive Center, was scheduled to go from noon until three, or until all of the animals were adopted. It took only a matter of minutes to adopt them. There were people lined up even before the event began. According to Salina Animal Services Manager Vanessa Cowie there were a total of 39 adoptions. "It was a great day," Cowie said. Organizers did not know what to expect, with it being the first time an event like this was held. Everyone involved was pleasantly surprised with the overwhelming response. The fees waived adoption event in Salina was held in October for a reason. October is Adopt-A-Dog Month, established in 1981 asan annual event to encourage people to save lives and enhance their own livesby adopting a dog from a shelter or rescue group. It is also Subaru Love Pets Month for Money Automotive who will also be collecting donations for the rest of the month forSalina Animal Services.
---
Hayden's Wish - Stacee O
Money Subaru has proven that they go above and beyond to Share the Power of a Wish®. On Wednesday, May 31st, 2017, Money Subaru presented Make-A-Wish® Kansas with two checks for a total of $17,469.00 for their 8th annual #ShareTheLove campaign. The organization, staff and support from Subaru of America, Inc. stepped up to the plate to help grant a wish for six-year-old Hayden. Hayden is from Carlton, Kansas who is fighting leukemia. He is a true outdoorsman and loves to hunt and fish with his best friend by his side, his dog Hunter. When given the opportunity to wish for anything in the world, Hayden wished to have his very own camper to take on fishing trips to the lake. Because of Money Subaru's generous donation, Hayden will have his wish granted this year! We cannot wait to see the look on his face when presented with his camper because his dreams will then become a reality! Thank you Money Subaru and Subaru of America, Inc. for supporting Make-A-Wish®Kansas to grant this very special wish for a very special kid and other children like Hayden. We cannot speak highly enough of the dedication and commitment that Mike Money and his team have at Money Subaru to reach out and make the world a better place!
---
Big Brothers Big Sisters of Salina - Jennifer E
By giving to Big Brothers Big Sisters of Salina, foundations and corporations benefit the community's most important asset — its children. Big Brothers Big Sisters is a well-respected brand with a sterling reputation and proven results. Major investments from foundations and corporations have enabled Big Brothers Big Sisters of Salina to connect with young people in unprecedented ways, so they can start on the path to unlimited potential—and maybe even start a business or foundation of their own some day. Money Subaru is a proud supporter of our Local Big Brothers Big Sisters of Salina!
---
Become a Friend of the Salina Animal Shelter! - Jennifer E
Are you looking for a way to pay it forward? Become a Friend of the Salina Animal Shelter! Money Automotive is proud to support our local Animal Shelter and now you can too! The Friends of the Salina Animal Shelter is a non-profit volunteer organization that is dedicated to helping the animals at the Salina Animal Shelter. These volunteers brighten the lives of the many pets cared for at the shelter daily. Volunteers are an integral part of getting the animals socialized, keeping them exercised, and getting them exposure to the public all with the hopes of finding all the shelter animals new furr-ever homes and furr-ever families! There are lots of opportunities such as office/admin, Petco cat condo maintenance, socializing cats, exercising dogs, grooming, photography, offsite events, etc. Go to the Animal Shelter's website at www.salinaanimalshelter.org and fill out both a volunteer application and city background check and bring to 329 N 2nd St. with a $10 fee.
---
TOGETHER WE CAN DO SO MUCH MORE. - Jennfier E
The Salina Family YMCA is charitable organization dedicated to the development of individuals in spirit, mind and body. The Salina Family YMCA was founded and continues to be governed by volunteers. Throughout their history it has been the generous contribution of volunteer time, treasure and talent that has allowed the Salina Family YMCA to grow and flourish as it does today. Money Automotive shares their vision and we are proud to help make their efforts possible through our donation. Their annual Campaign provides needed funding to support financially assisted memberships, camper ship and child care services. These funds allow the YMCA to continue to provide an ongoing opportunity for all members of our community to personally develop in spirit, mind, and body. On August 15, 2016 we were given a tour by Angela Lassley and presented her with our donation. Yes....TOGETHER WE CAN!!
---
Money Subaru Gives Back to Salvation Army - Daniel B
On November 11, 2015, Money Automotive Center donated $2,125 to the Salina Salvation Army. The donation came from a portion of each vehicle sold between the months of July and August as a part of their "Subaru Gives Back" program. David Sweet, Mike Wernecke, Carolyn Money, Mike Money, and Clayton Sowers were there to present the check to the organization. Donations to the Salvation Army help fund many of the programs offered to the community such as disaster services, emergency financial assistance, food programs, seasonal services, worship services, aid to families, character building programs, and much more. Donations also help with the everyday operations to keep the Salvation Army up and running. All donations made to the Salina Salvation Army do stay local.
---
Love, Chloe Foundation - Heidi L
The Love, Chloe Foundation started in March 2008 in memory of Chloe Feyerherm who was diagnosed with DIPG (Diffuse Intrinsic Pontine Glioma) at the age of 6 in November 2006. After several treatments, at the age of 7 in 2007, Chloe earned her wings in heaven. The Love, Chloe Foundation was created to support other families with children who have cancer. The Love, Chloe Foundation started the Monkey In My Chair program in 2009 which is a nationwide program that helps young children stay connected with their class while they are away for cancer treatments. Then in 2011, the Love, Chloe Foundation teamed up with the Cure Starts Now Foundation to help the Monkey in My Chair program expand and gain funding opportunities. On November 12, 2015, Money Automotive donated $1,925.00 to the Love, Chloe Foundation as part of the "Subaru Gives Back" program. Rebecca Charbonneau, Mark Erlemeier, Donna Smith, Carolyn Money, Mike Money, and Mike Wernecke were on hand to present the check to the organization. The money donated came from a portion of all vehicles sold in the months of September and October this year. Donations made to this organization help the children with cancer, provide financial assistance to local families, support the Monkey in my Chair program, and cancer research.
---