Subaru is known for adventure-ready vehicles, and the beloved and iconic 2022 Subaru Outback model is no exception. The 2022 Outback, for sale now at our Subaru dealer in Salina, KS, has been widely praised for its ability to blend off-road capabilities with everyday comfort and practicality. Unlike many other SUVs, the Outback changes every ride for the better, whether you prefer exploring rural back roads or busy city streets. To prove its versatility and value, we've compared this popular Subaru against three other SUVs: the Hyundai Santa Fe, Volvo XC60 and Toyota Highlander. Read on to see how the Outback stacks up.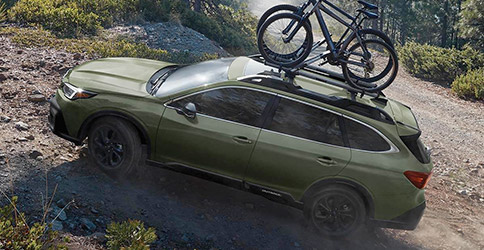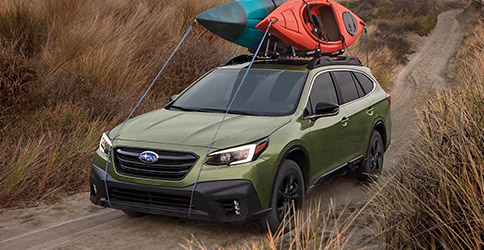 2022 Subaru Outback Price vs. the Competition
The new Subaru Outback provides excellent value no matter what trim, packages or powertrain you choose. That begins with the Outback price, which rings in below the Hyundai Santa Fe and the rest of the comparable models. The most expensive model profiled here, the Volvo XC60, starts at over $15,000 more than an entry-level Subaru Outback. In fact, even the most upscale 2022 Outback trims are oftentimes more affordable than a lesser-equipped model from the competition. That's an unbeatable value any way you slice you it, and one of the many reasons Kansas buyers remain loyal to the Subaru Outback.
| Features | 2022 Subaru Outback | 2022 Hyundai Santa Fe | 2022 Toyota Highlander | 2022 Volvo XC60 |
| --- | --- | --- | --- | --- |
| Base Price | $26,945 | $27,200 | $35,205 | $42,650 |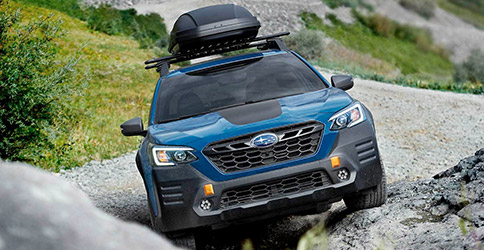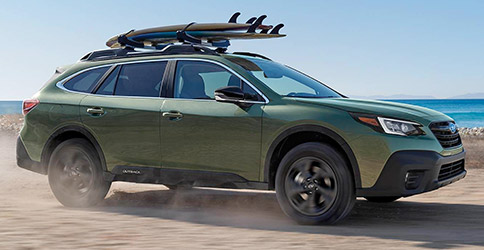 Subaru Outback Performance & Specs Compared
Unlike many competitors, the Outback SUV has a penchant for off-roading. That's truer than ever with the new Outback Wilderness™, a rugged trim that has the hardware to back up its tough looks. You'll find that the Outback Wilderness™ comes equipped with features like as all-terrain tires, an enhanced X-MODE® terrain management system, and redesigned bumpers that make it easier to clear obstacles. It's a specialized trim that has no equal among the SUVs compared here. While the competition is relegated to the pavement, the Outback enables you to chase adventures far off the beaten path.
| Features | 2022 Subaru Outback | 2022 Hyundai Santa Fe | 2022 Toyota Highlander | 2022 Volvo XC60 |
| --- | --- | --- | --- | --- |
| Available Off-Road Trim | Yes | No | No | No |
| Max Ground Clearance (in.) | 9.5 | 8.2 | 8.0 | 8.5 |
| X-MODE® | Standard | N/A | N/A | N/A |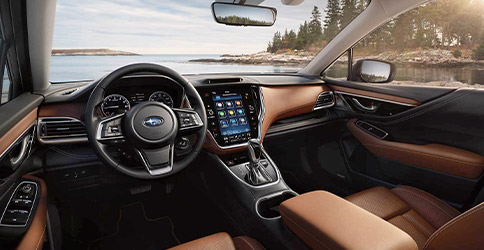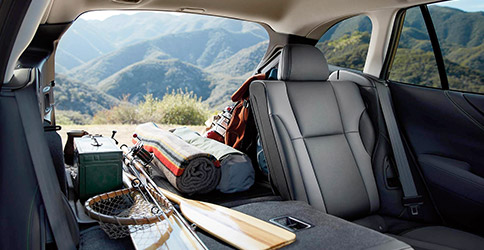 Subaru Outback Features and Tech
The new Outback isn't just equipped for hardcore adventure: it also offers all the latest technology and safety equipment you might want for your everyday driving. Of these features, the most notable is standard EyeSight® Driver Assist Technology that is found on every 2022 Outback trim. The comprehensive bundle includes Automatic Pre-Collision Braking, Advanced Adaptive Cruise Control and Lane Keep Assist. The Outback also offers an 11.6-inch touchscreen, which is larger than the biggest units available in the Hyundai and Volvo. By pushing boundaries and raising expectations, the 2022 Subaru Outback changes the way you experience the road ahead.
| Features | 2022 Subaru Outback | 2022 Hyundai Santa Fe | 2022 Toyota Highlander | 2022 Volvo XC60 |
| --- | --- | --- | --- | --- |
| Standard Safety Suite | EyeSight® Driver Assist Technology | Hyundai SmartSense™ | Toyota Safety Sense™ 2.5 | IntelliSafe Assist™ |
| Max Touchscreen Size (in.) | 11.6 | 10.25 | 12.3 | 9.0 |
| 12-Speaker Harmon-Kardon Audio | Available | Available | N/A | N/A |